There seems to be a concerted effort from Trump and his Administration to lie and put out false information. The press were threatened and misinformation put out.
It may seem trivial to lie about the size of the crowd – but it isn't. To accuse all the press of lying when they are telling the truth, to accuse them of putting out Fake News and to threaten them is a disturbing business – it threatens democracy!
White House press secretary's angry declaration that the media faked low attendance does not stack up against photos, videos and public transport figures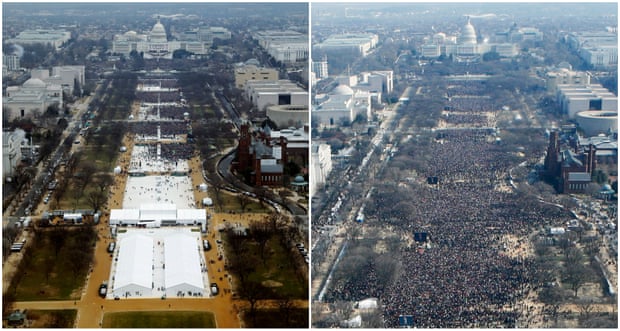 Then Trump threatens them for false reporting of his poor relationship with the CIA when his own tweets are clear.
Russia has never tried to use leverage over me. I HAVE NOTHING TO DO WITH RUSSIA – NO DEALS, NO LOANS, NO NOTHING!
CBS News' Julianna Goldman reported on his connections to Russia in July of last year, showing that Trump had thought of Russia as being a appealing business climate and that he had attempted to bring his brand to the country for decades. In 2013, Trump's Miss Universe pageant was held in Moscow — thanks, in part, to the dealings of Crocus Group, a Russian real estate development firm that. In a 2007 deposition, Mr. Trump even discussed plans for a Trump International hotel in the country.
"It's ridiculous that I wouldn't be investing in Russia," Trump had said in his deposition. "Russia is one of the hottest places in the world for investment."
Intelligence agencies should never have allowed this fake news to "leak" into the public. One last shot at me. Are we living in Nazi Germany?
It seems that in the land of Trump the only news allowed is the propaganda put out by Trump. All other news is Fake News. It is Orwellian to the extreme – like something straight out of 1984.